Helicopter flight instructor manual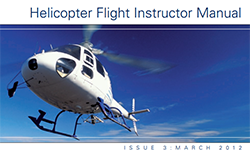 This manual is an educational tool for use by Australian and New Zealand helicopter flight instructors.
A specific mountain flying section has New Zealand input, although this does not include all the Advisory Circular syllabus content. Syllabuses in the appropriate Advisory Circulars remain the acceptable means of compliance - this manual is an additional resource for training providers.
This helicopter flight instructor manual, produced by the Australian Civil Aviation Safety Authority, includes material developed with the Civil Aviation Authority of New Zealand.
Helicopter flight instructor manual [PDF 4 MB] - issue 3 Mar 2012